The value of Washington, D.C., as the center of American governance, goes beyond its purely political appearance. While acting as a hub for international diplomats and decision-makers, it also serves as an example of a rich combination of history, culture, and unmatched diversity. How to relocate to this city is a common question. The trip promises to be exciting and challenging for those who are thinking about moving to this famous capital. This manual makes an effort to explain this procedure and provides helpful insights.
Cost of Living in DC
Residing within the precincts of Washington, D.C. is akin to immersing oneself in a multifaceted experience. However, this comes tethered to a substantial financial commitment. The city, in its economic stature, parallels some of the most exorbitant urban landscapes in the U.S. Monthly rent, on an average trajectory, hovers around $2,238. Coupled with a 6% municipal tax and ancillary retail sales impositions—particularly pronounced in dining and recreational sectors—the imperative of astute financial planning becomes paramount.
Cost of Moving to DC
The act of moving involves many complex financial considerations in addition to logistical factors. The cost of moving involves many different things, from hiring professional Movers to setting up a new home. But there are ways to be financially prudent. For instance, some real estate experts offer commission discounts as a potential source of financial relief. Additionally, tools like moving cost estimator can provide rough financial projections.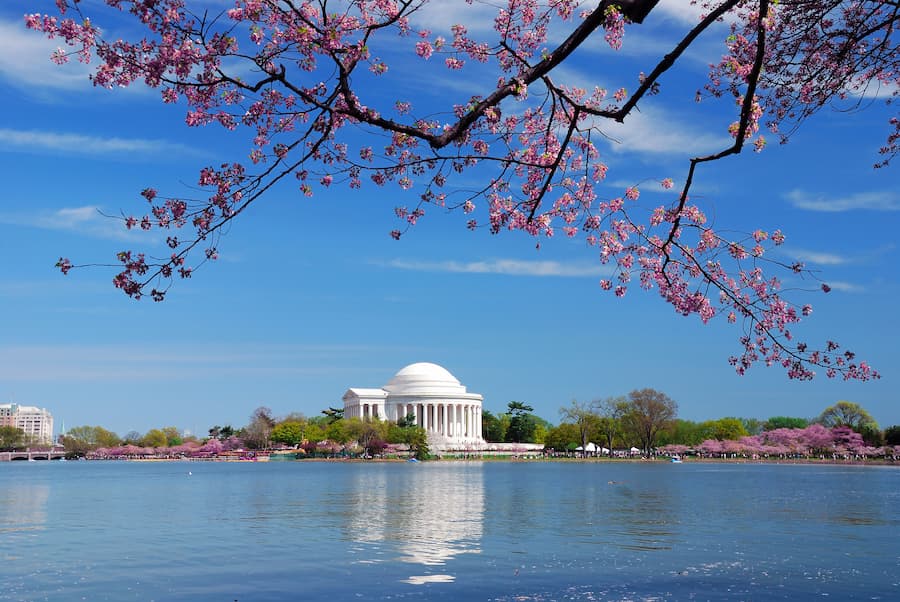 Neighborhoods
D.C.'s urban tapestry is dotted with a variety of unique neighborhoods, each of which displays its own unique attraction. Regions like Adams Morgan, Dupont Circle, or U Street stand as essential choices for people who are drawn to vibrant places. On the other hand, those looking for peace may find it in places like Woodley Park, Georgetown, or Capitol Hill. Each enclave, at its core, offers a pleasantly balanced fusion of amenities, historical resonance, and a distinctive atmosphere. To find the best fit, careful investigation is advised.
Transport
It can be difficult to navigate Washington, D.C.'s maze-like streets, especially when transit is at its busiest. For a sizeable population, the Metro system, which is divided into six distinct color-coded rail trajectories, serves as an essential conduit. For commuters who prefer to pedal their way to work, D.C. has excellent cycling infrastructure, as demonstrated by programs like the Capital Bikeshare. Understanding the city's quadrant-centric layout can help avoid any potential navigational difficulties.
Working with Real Estate Professionals
The development of local real estate knowledge is essential in a city like D.C. that is constantly changing. Working with a knowledgeable buyer's agent can pay off in numerous ways. These experts can provide astute perceptions of market fluctuations, local quirks, and skillful negotiation techniques. The breadth of their D.C. experience and any potential financial incentives, like commission discounts, should be key factors when choosing such an associate.
Preparing for the Move
The act of moving transcends the mere transportation of belongings; it signifies a profound life transition. The engagement of proficient movers, particularly those acquainted with D.C.'s unique challenges, can be invaluable. Comprehensive budgetary planning, encompassing every facet from utilities to entertainment, is imperative. Tools, exemplified by the Metro's trip planner, can facilitate an acclimatization of the city's intricate transportation matrix.
Embracing D.C.'s Culture and History
After moving in, the city opens up to a world of discovery. Historical sites abound in Washington, D.C., from the imposing size of the National Mall to the age-old White House. The city's cultural institutions, which include a wide range of museums, galleries, and monuments—many of which are free to visit—beckon with assurances of enlightenment. Modern businesses, like The Wharf, contrast modernity with historical reverence to offer a wide range of recreational options.
Conclusion
Moving to Washington, D.C., represents more than just a change in location. It represents an immersion into a setting where historical gravitas and modern vibrancy coexist harmoniously. Even though moving can seem difficult, with the right information and careful planning, one can easily fit into the fabric of D.C. life.